By Richard Weitz
Silk Road Paper
Central Asia-Caucasus Institute & Silk Road Studies Program, Joint Center
January 2018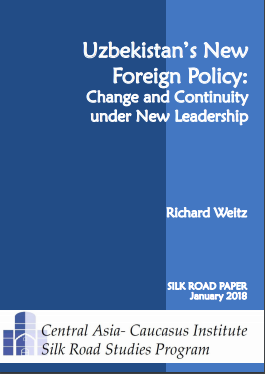 Executive Summary
Since Uzbekistan gained independence in 1991, its government has sought to maximize its national security and sovereignty by limiting dependence on foreign actors. This priority has continued under former President Islam Karimov and current leader Shavkat Mirziyoyev. Mirziyoyev's foreign policy builds upon that of Karimov. Even as Tashkent has recently sought to improve ties with Central Asian neighbors and deepen relations with some international institutions, the Uzbek government still strives for balanced relations with external great powers like Russia, China, and the United States. Uzbekistan's foreign policy still adheres to core principles such as abstention from military alliances or the Moscow-led Eurasian Economic Union; refusal to deploy Uzbek troops beyond its national territory or to host foreign military bases; and non-intervention in the internal affairs of foreign countries. These continuities are unsurprising since many of the security challenges that faced the Karimov administration persist today, including transnational terrorism, underdeveloped regional transportation infrastructure, and contested Eurasian borders and water usage rights.
Notwithstanding these continuities in strategy, Uzbekistan foreign policy tactics have clearly changed over the past year following Mirziyoyev's ascent to the presidency. A flurry of significant new policy initiatives that have differentiated his foreign policy from that of his predecessor. Furthermore, Uzbek officials have emphasized more the imperative of cooperating with other Central Asian countries, while Uzbek leaders have adopted a more amicable tone with all their regional counterparts. For example, they have called for a joint effort to build regional power stations and share electricity, reducing a source of regional conflict. Mirziyoyev has personally travelled to many neighboring countries, signing important socioeconomic and security agreements during these visits. Many business leaders have accompanied these presidential delegations. Meanwhile, Tashkent has welcomed representatives of leading international institutions, as well as major foreign governments. Mirziyoyev has also traveled to Moscow, Beijing, and the United States in pursuit of business deals, diplomatic support, and security partnerships. His administration's domestic reforms partly aim to make the country a more attractive partner to the West, even as Uzbekistan continues to deepen economic ties with Russia and China.
Uzbekistan's expanded engagement with foreign partners and international institutions contributes to improved relations with its Central Asian neighbors. Recent Uzbek initiatives have led to the construction of new transportation infrastructure, economic deregulation to simplify business entrepreneurship, liberalizing of national currency controls, and other market-oriented reforms in pursuit of Uzbekistan's goal of becoming a regional transportation and investment hub. These new tactics should help Uzbekistan better leverage its natural advantages, such as its pivotal geographic location. In particular, Uzbekistan is strategically positioned to benefit from China's infrastructure investment across Eurasia. Besides developing additional economic connections, the Uzbek government's new foreign policy approach could also generate social and economic opportunities for its citizens, strengthen the regional capacity to manage transnational threats, raise Uzbekistan's foreign economic profile beyond Central Asia, and help maintain geographic pluralism in the heart of Eurasia.