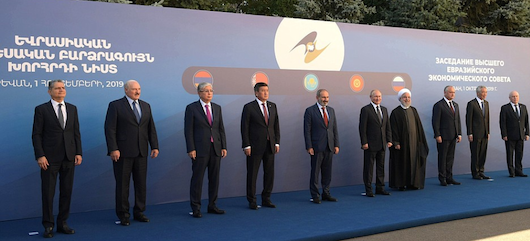 S. Frederick Starr
Kennan Cable No. 46, January 15, 2020
Is there a grand strategy that informs Russia's activities abroad and, if so, what is it? For years it seemed that President Putin based his foreign policy mainly on his 2005 statement to the Russian nation that the collapse of the Soviet empire "was the greatest geopolitical catastrophe of the century." The task of Russian policy was therefore to reclaim by whatever means necessary as much control over former Soviet territories as possible. This led to his seizure of Georgian territory in 2008, his Crimean grab of 2014, and his armed incursions into eastern Ukraine in 2014-2019. More recently, it has led to his forcing Kyrgyzstan to join his politics-driven Eurasian Economic Union and his current bullying of Uzbekistan and Tajikistan to follow suit.
In practice, Russia's foreign moves in places as diverse as Eastern Europe, Syria, and Africa seem to be guided more by opportunism than strategy. This has not sat well with some members of Moscow's policy-oriented intelligentsia. Modern Russia, after all, is heir to a half millennium of messianic ideologies that justified and encouraged the expansion of territories under Moscow's rule. Whether building the Third Rome, destroying the Tatars, placing the Cross of St. Vladimir atop the Hagia Sofia in Constantinople, building a Holy Alliance against future Napoleons, protecting Europe against revolution in 1848, conquering Muslim Central Asia in the 1860s, or aspiring to Sovietize Eastern Europe under Stalin, ideas, not mere opportunism, have driven Russia's actions abroad. Even as Putin repeated his assertion about the collapse of the USSR, a deficit of theory was forming in Moscow's foreign policy circles.
Image via Kennan Cable No. 46: Greater Eurasia: Russia's Asian Fantasy