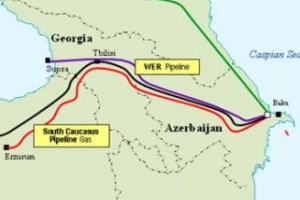 CACI Forum
The South Caucasus Transportation and Energy Corridor: Update in Light of Nuclear Deal with Iran
Wednesday, 21 October 2015, from 5 to 7 PM (reception at 5 p.m., followed by main program at 5:30)
You may view a recorded version of this CACI Forum below or on the SAIS events YouTube channel.
Several US administrations contributed to the revival of the East-West transport corridor connecting the Caspian region with Europe via South Caucasus. Functioning elements of this infrastructure are already moving significant volumes of oil and gas, but the potential of this route is only partially realized. Kazakhstan, Turkmenistan, Azerbaijan and Georgia are developing new elements of infrastructure that should facilitate the flow of raw materials and finished goods between Asia and Europe. But without political and security support, this project cannot succeed.

This forum, with speakers from academia and business, will analyze and offer views on the commercial and geopolitical context for development of the South Caucasus transportation corridor. It will also look at the Shah-Deniz II/Southern Corridor energy project, as well as explore the impact of the nuclear deal with Iran on regional energy and transportation landscape.