Op-Ed, The New York Times, August 1, 2016
Halil M. Karaveli, "Turkey's Fractured State"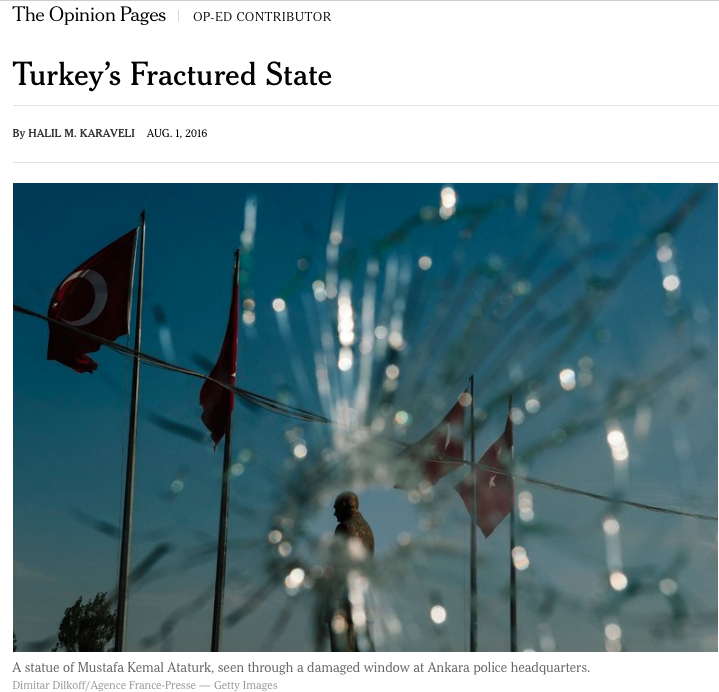 GOTHENBURG, Sweden — The Turkish military is known to be a stronghold of Kemalism, the secularist and nationalist ideology of the founder of Turkey, Mustafa Kemal Ataturk. So when the Islamic conservative Justice and Development Party, known as the A.K.P., came to power in 2002, many then feared that the military would stage a coup in the name of Kemalism.
Yet when a coup in Turkey did finally materialize, on July 15, it wasn't Kemalists who were blamed, but the Gulenists, members of an Islamic fraternity led by the cleric Fethullah Gulen, who has lived in exile in the United States since 1999. President Recep Tayyip Erdogan, echoed by the Turkish military's general staff, claimed that what they call the "Fethullah Gulen terrorist organization" was behind the failed ouster.
Read the complete article here.
Halil M. Karaveli is a senior fellow at the Central Asia-Caucasus Institute and the Silk Road Studies Program.