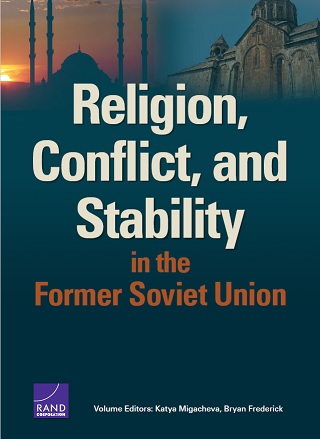 Click here for PDF of the chapter.
Click Here for entire book at RAND website.
The specter of Islamic radicalism in Central Asia received considerable attention in the late 1990s and early 2000s. The U.S. government, dependent on access to Afghanistan from bases in Central Asia, spent considerable resources on seminars covering the subject, while academics and policy analysts penned numerous studies on the subject.
A distinct paradigm has emerged in this literature, one that argues that the combination of repressive governments and economic deprivation in Central Asia, and particularly Uzbekistan, would serve as an incubator of radicalism. Unless the Uzbek government changed its ways and opened its political system, radical Islam would only grow larger and more menacing. The Central Asian regimes advanced the opposite argument: The specter of Islamic radicalism—inspired and supported from abroad—was so severe that it legitimized their reluctance to engage in serious political reform and restrictive policies toward nonsanctioned religious groups. In fact, the 1999 events further convinced the Uzbek leadership that the more open political system in Kyrgyzstan was a serious mistake. Thus, regional governments and Western analysts clashed on the causal mechanisms at hand regarding the rise of Islamic radicalism. Yet they were in full agreement that Islamic radicalism was, indeed, a potent force in Central Asia.
With the benefit of hindsight, it is now clear that these predictions and fears did not materialize. While it is undeniable that Islamic extremist groups formed a considerable challenge in the 1990s, the widespread radicalization that was expected in the region has not occurred. In fact, its absence has led some scholars to recently talk of it as a "myth." As will be argued in the next section, that may be going too far: There were indeed serious indications of a potential for radicalization in the region. Yet in the past decade, Islamic radicalization has swept the Middle East, including North Atlantic Treaty Organization (NATO) member Turkey, and come to strongly affect Muslim communities in Western Europe. In the same period, it has not been a serious factor in Central Asia. In fact, the academic and policy interest in Central Asian Islamism that was apparent a decade ago gradually receded, albeit receiving a new lease on life recently with concerns of Islamic State recruitment.
This chapter seeks to shed light on the relative absence, contrary to predictions, of Islamic radicalization in Central Asia. Following an overview of the emergence of radical Islamic groups in the region, it will assess factors that could explain radicalism's limited development—ranging from the cultural and historical traits of Islam in Central Asia to external Islamic influences and the policies of regional governments.